Bride-to-be Katie first got in touch about her Barnsdale Gardens wedding after seeing the photos from my visit there last year with Claire & Steve. It's a wonderful place for smaller, more intimate weddings, and that's exactly what Katie & Laura were planning. The day would be just close family and friends, invited for the ceremony and a drinks reception, with a big party for lots of family and friends the following day. As such, Katie & Laura only needed a photographer for 2 hours on the day of the wedding so this was a much shorter shoot for me. However, despite the narrower timeframe I took almost as many photographs as I would during a full day. When I see a great photo happening or important moment unfolding, instinct takes over and I try and shoot it in the best way I can. Katie & Laura's wedding was so much fun, so beautiful and so full of moments and emotion that I had a lot to capture. I love the photos of Katie & Laura as they walk up the aisle, there's a lot of story, love and emotion in those moments.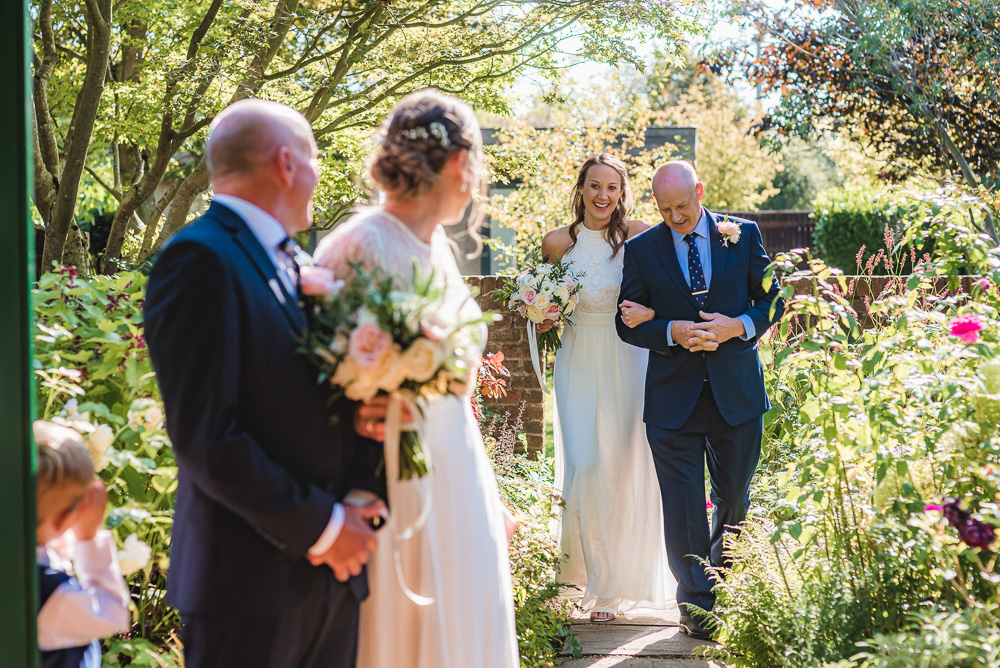 Barnsdale Gardens wedding venue is a fantastic location for couple portraits as it houses a brilliant collection of individual gardens. It's great to explore together – so the couple can enjoy some time alone – and we can also create some great images. It was also important to Katie & Laura to get some natural photos of them and their mothers together. I suggested simply going for a walk through the garden, as they ordinarily would, and I could capture the unstaged (but still created) photos they wished for. Anyway, take a look and see for yourself what a happy, fun, and love-filled afternoon in the sun this was!
If you're looking for a wedding photographer then please drop me a line!